Wireless ADT Honeywell Glassbreak Detector monitored by ADT offers uncompromised performance and unmatched false alarm immunity. It is compatible with all ADT Quickconnect and ADT Safewatch Pro 3000 Control Panels.
The FlexCoreTM signal processor utilizes an Application Specific Integrated Circuit (ASIC) – processing sound data in parallel rather than sequentially. This permits sound frequency, duration and amplitude to be analyzed 50% faster to minimize false alarms while maintaining the highest possible level of detection.
It can be mounted on any wall or ceiling within a 25' range, with no minimum range limitation. The LEDs indicate test mode, alarms and trouble conditions. It is compatible with all 5800 series wireless devices. Like all wireless devices you must have room on your wireless receiver to add this and you must be able to program it. Programming on a Lynx or Quick Connect can be done on the keypad. Programming on a safewatch pro or Vista system may require a special alpha programming keypad.
This is a picture of a different model but I couldnt find one of the same model for demonstration purposes. But this will help you get the idea.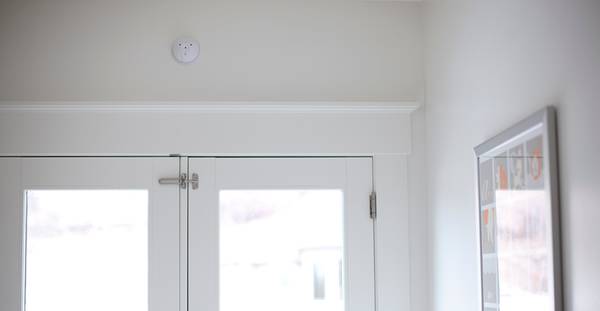 Features of the Wireless ADT Honeywell Glassbreak Detector:
Test mode can be activated remotely with FG-701 Tester
Four selectable sensitivity settings (Max, Medium, Low and Lowest)
Senses the sound of variety of glass (tampered, wired, laminate, ordinary plate, etc.)
FlexCore signal processor
Sleek design with front and back case tamper
Ten year battery life with easily replaceable batteries