The Honeywell Color Touchscreen Keypad with Full Graphics and Voice ability is the nicest Honeywell keypad made for the Vista Control Panels. They feature a high-resolution 7″ widescreen TFT display that doubles as a digital picture frame. They come in silver or white and have three language options for voice annunciation of alarm conditions. The new intuitive user interface features icons and menus that make system operation easy to navigate. Honeywell Color Touchscreen Keypad uses the same icons as Honeywell Total Connect™ Remote Services, helping to make it easy to use and reduce costly false alarms.
The digital picture frame and video viewer features let end-users create slideshows and view home movies on the brilliant, high resolution TFT display. Homeowners can customize the slideshow with family photos, vacation pictures and more.
The diagram below shows the SD Card Slot and the LEDs and their meanings.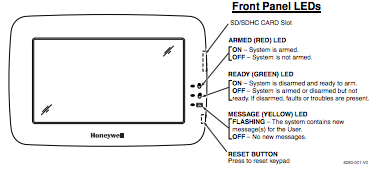 FEATURES
High-resolution, 7″ widescreen 800 x 480 TFT display
16 million colors capability to display vivid images
Intuitive touchscreen display with icons and menu driven prompts (English only)
Digital picture frame, slideshow or home movies through standard SD card
Available in two colors – Silver: Ideal for kitchens with stainless steel appliances, garages and basements – White: Blends seamlessly with most lighter décors
Three languages can be displayed – English – Spanish (Latin American) – French Canadian
Voice annunciation of type and location of alarm (English only)
Family message center that lets end-users record and playback messages
Wiring the Safewatch Pro Touchscreen Keypad
The Vista Panel has around 600mA for Keypads and other devices. It is recommended to use the 255mA figure from the chart below for estimating purposes. If you have more than 2 of these keypads you will probably need an extra power supply. (which means you will need a transformer and back up battery also)


Initial Set up information
It should work right away if you are only using one or two of these without total connect. If you are using total connect and two of these you will need to have them assigned to ECP 1 and 5.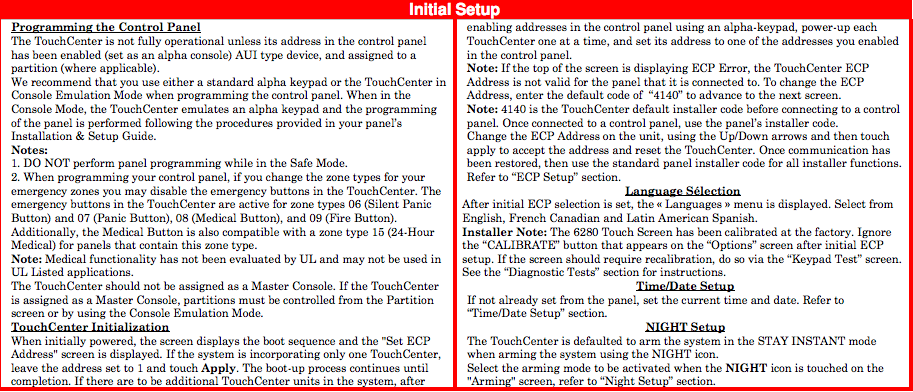 Additional Settings and information