15 Jun

How Do I Replace My Old ADT Cameras with New HD Cameras?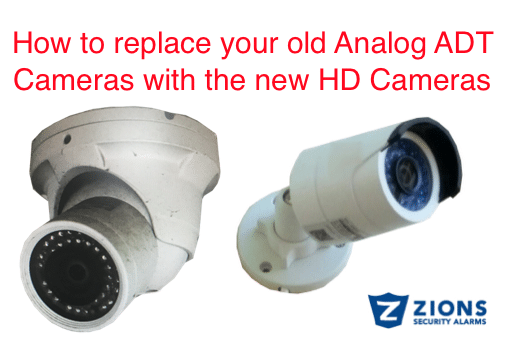 There are several reasons why you may want to update your old ADT security cameras with new HD cameras like the 2MP ADT Dome Camera or the ADT HD-TVI Bullet Camera.
They may be old, out of date with the current technology, or possibly defective due to aging.
ADT security cameras with new HD 1080P quality make it easier to keep an eye on your property, with very clear visuals of your premises and other incredibly beneficial features.
Depending on your system configuration, you can certainly give your security equipment a nice facelift with top-of-the-line technology.
Here is a quick explanation of how to go about replacing your old analog wired security cameras.
A Quick How To
Replacing your security camera is super easy, so let's get to it!
Your wired cameras either go to a DVR for recording or they go to an ADT Analog Encoder. If you want to replace it with a 1080P HD-TVI Camera you will first need to replace your DVR with one that can do 1080P HD video. Then the new DVR can handle both old analog cameras and new HD cameras.
If you do not have a DVR and your old analog cameras just went into the ADT Pulse Encoder then you might want to get a DVR since the new HD cameras cannot connect to the old encoders. You can still see your cameras remotely because the DVR comes with an APP for remote viewing.
To replace the wired analog camera you will want to disconnect the power supply that is powering the camera.
Then remove the camera from the BNC Coax video connection and remove it from its location.
Then you will want to install the new HD-TVI Camera in its place by reconnecting the BNC connector and then the power supply last.
If you have a new DVR already connected on the other side then you should get a new 1080P HD image immediately.
Wasn'y that easy?
Let's Take a Look At Your Options
When it comes to HD cameras, Zions Security Alarms has plenty to choose from.
Want even better news? They are all competitively priced and affordable, so you can get your hands on them, and some are even on an additional sale!
Here are just a couple HD cameras that are available, with some features of each listed below:
1. . HD-TVI Bullet Camera 3.6mm 2MP
2.1MP High Definition
Full HD 1080P
1920X1080P@30fps
3.6mm Fixed Lens
24 IR LEDs up to 65ft
Outdoor/Indoor
DC 12V
IP66
UTC
1080p Silver HD-TVI Dome Camera
4. 1080p Silver HD-TVI Dome Camera
1080p HD resolution
2.8mm fixed lens
20m (66ft) IR distance
IR cut filter with auto switch
Digital Wide Dynamic Range
IP66 rated for outdoor use
Operating Temperature: -22 degree F~140 degree F (-30 degree C~ 60 degree C)
Cost-effective and easy to install
12VDC operation
DVR compatible
These are just some of the HD security Cameras that Zions Security Alarms carries. Click here to see ALL of them!
Update Your Security & Save Big Today!
Replacing your old, outdated ADT cameras is easier than ever. Now's the perfect time to update to high-quality HD ADT cameras and take your home security to the next level.
Live worry free, and save on extremely affordable HD cameras today!
Have any questions? Feel free to send us an email here.