23 Mar

Could Your Worn Security Keypad Buttons Compromise Your ADT Security System?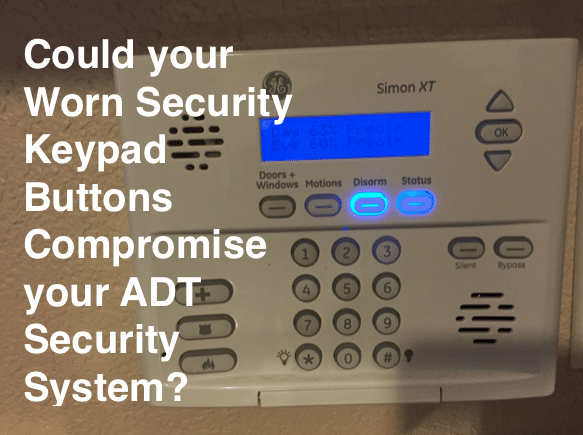 Every physical thing we own will eventually experience wear and tear. From our cars, to our homes, clothes, and even our ADT security system keypads.
Our security system keypads certainly will exhibit signs of use over the years. It's inevitable. All the pressing on the little rubber keypads over the months and years add up. Your keypad may even exhibit wear patterns of repeated security pass code entry to arm and disarm your system!
Let's look at some of the most common problems you may experience over the years, and why you should keep your keypad in great condition.
Wear Patterns and Becoming Unresponsive
Have you ever been to a store or a business (or maybe even notice this in your own house) that the floor in high traffic areas always seems to wear out the fastest? It makes sense.
This same type of issue may occur with your security keypad. The numbers you press most frequently may start to smudge and fade before the rest of the digits.
This could pose a threat to your home or business security system. If it appears obvious which buttons are the ones you use and the ones you dont use it will be much easier for someone to figure out your code to disarm the alarm system. This is not good for keeping the home or business secure. (Can you notice the buttons used the most on the image above?)
Also, the symbols and numbers on your keypad, depending on how long you've had it, may also completely rub away, or become very dirty, making it harder to identify them. (Do you see how that could become a problem?!)
Also, depending on how well you take care of of your keypad, certain digits may stop working over time.
So, what are 2 cost effective ways to solve the problem of a worn security keypad?
Get a newer version of your existing security keypad with the rubber buttons, or opt for a touch screen if possible!
The Best Options
Getting a newer version of your existing keypad is definitely a great idea.
And want to hear some good news? As an Authorized ADT Dealer, Zions Security Alarms has several keypads at incredibly low prices, with several even being on sale.
We're talking keypads like the popular Safewatch Pro basic ADT keypad, the ADT Safewatch Safepass Alpha Keypad, and so many others.
Click here to check out all the keypads that Zions Security Alarms has to offer.
If your system allows it and you want to go for an even higher quality keypad and leave those rubber digits behind, the touch screen keypads are a great option.
Not only are the touch screen keypads that Zions Security Alarms offers are color and very visually appealing, they work off Wi-fi.
Also, some, like the ADT Pulse High-Definition Video Touchscreen Keypad (the name says it all), are even video keypads, bringing a whole new dimension to your home security.
Be sure to check out all the high performance touch screen keypads Zions Security Alarms has to offer by clicking here.
Be Proactive In Your Home Security
You want to protect the ones you love, and Zions Security Alarms wants to help. Be proactive in your home security efforts, and take your protection to the next level by caring for your security hardware.
If there are pieces of your system that are worn or broken and need replacing, make the decision today to maximize your home protection. You'll be thanking yourself later.