13 May

My ADT system says low battery, how can I change it?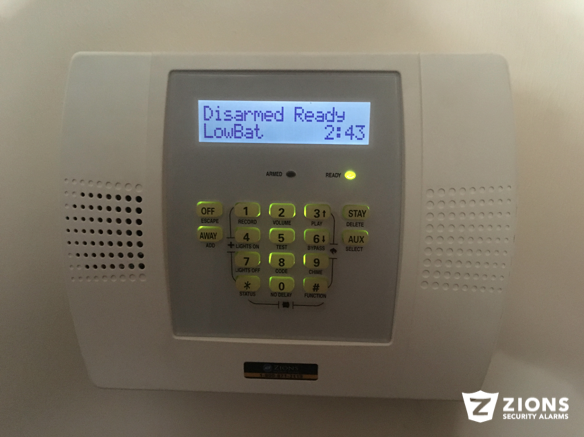 My ADT system says low battery, how can I change it?
No matter how much you know about your ADT security system, there are always questions that come up from time to time that you will want to learn more about. One of them is how to change the batteries and how do you know which battery it is that you need to change.
How Do I Find My Owner's Manual?
Before you change batteries in your system, you will want to refer to your owner's manual. Even if you have misplaced your owner's manual, it is easily accessible. You can review the user manuals we have posted on our website by identifying a photo of your keypad, or log into your account at MyADT.com and then choose the system you have. After you locate your security system, go to the Help Center and click on "find your system manual" where you can download it.
How Do I Replace a Sensor Battery for a Window or Door?
If you get a zone trouble indicator on your alarm keypad or a sensor trouble warning on the ADT Pulse device, the battery in either your window or door needs replacing. This should be done as soon as possible so that your home remains protected. You know that it is a zone battery because it will show a zone number when it says "low battery" instead of just plain "low battery" or "system battery". 
You can find the batteries you need on our website by going here.  
To prevent the system from having a false alarm, place the system in test mode by logging into the MyADT.com dashboard. Choose the "my alarm" area for the menu that you will need then choose system management.
From there, you are able to put the system into test mode or you can contact 800-ADT-ASAP (238-2727) to have it done by ADT via phone.
You will need a flat head screwdriver and simply push in the tab on the end of the contact, which is indicated by an arrow on the contact points in the front area. Place the new battery in correctly, put the front cover back on and snap it into place to close it.Note that you may have to reset your security system which is done easily by entering your code and choosing "off" two times. Then remove the system from test mode.
How Do I Change the Battery in the Alarm System
The battery in the alarm system has to be changed when it is low and it will let you know by displaying "lo bat" on the display or send you an alert. (it also could say "low battery" or "system battery".
In this case, you will have to order a battery and the alarm panel requires a special Sealed Lead Acid battery. Different panels require different batteries but you can look at the batteries here and let us know if you do not find the one you need. If you have a system like the picture above look here to know which battery to get. 
Once you get your battery, place your system in test mode. The steps are repeated again below
Access your MyADT.com dashboard and select "my alarm." Once there, choose system management and choose the option, "place system on test."
Now you will need to open the panel to the system. In some cases, you may require a key to do this but if so, it is located at the top left of the panel in most cases. Other times you will just need to push down on the tabs on the keypad/panel and you will find a green battery that has a little pin connector.
Now gently tug on the wires to disconnect them.
It is easy to replace that battery by simply connecting the black wire to the black tab and the red wire to the red tab. (or just plug in the new pin connector) Once that is done, close your panel and remove your alarm system from the test mode.
Keep in mind that you may get a low battery indicator for up to 48 hours but this is nothing to be alarmed about since it might just need to recharge. 
To learn more useful information about your ADT system or to inquire about having a system installed, simply contact us and we'll be more than happy to help.